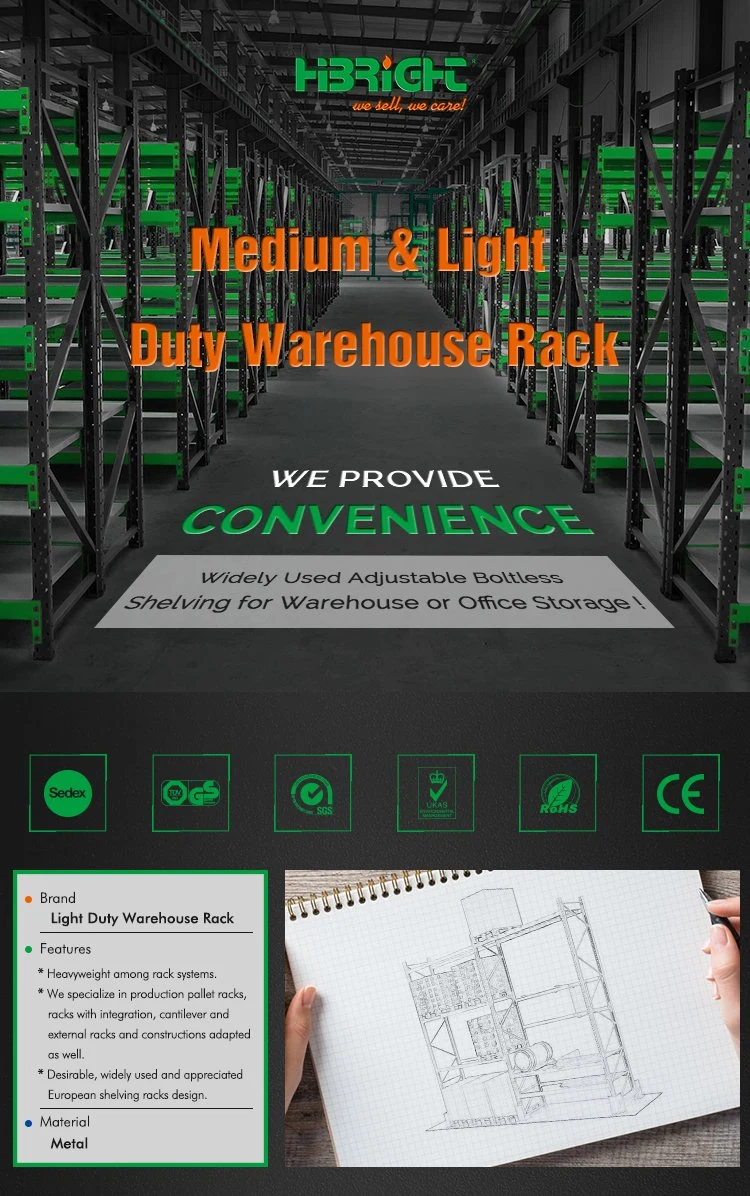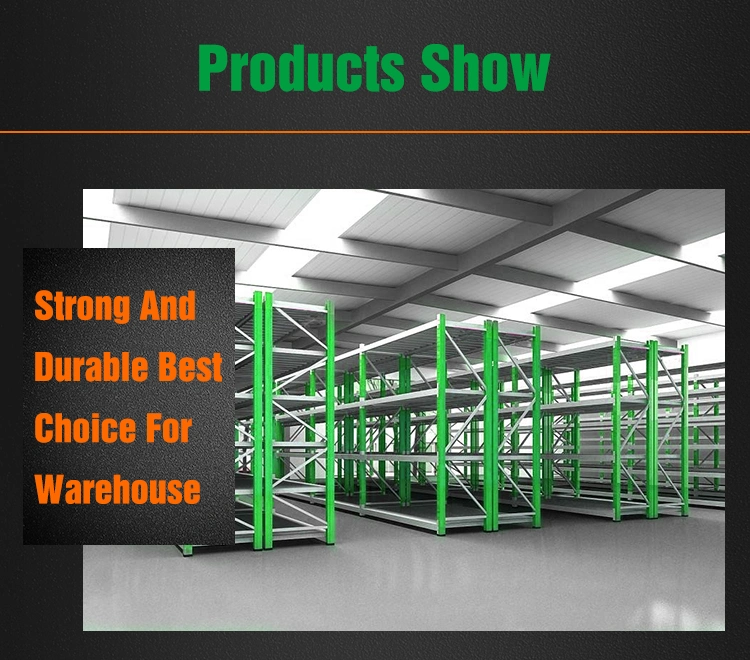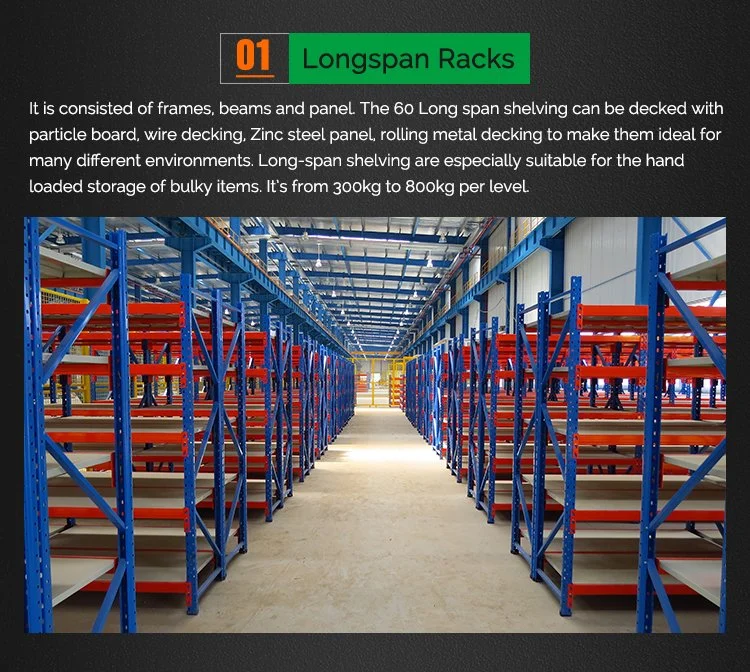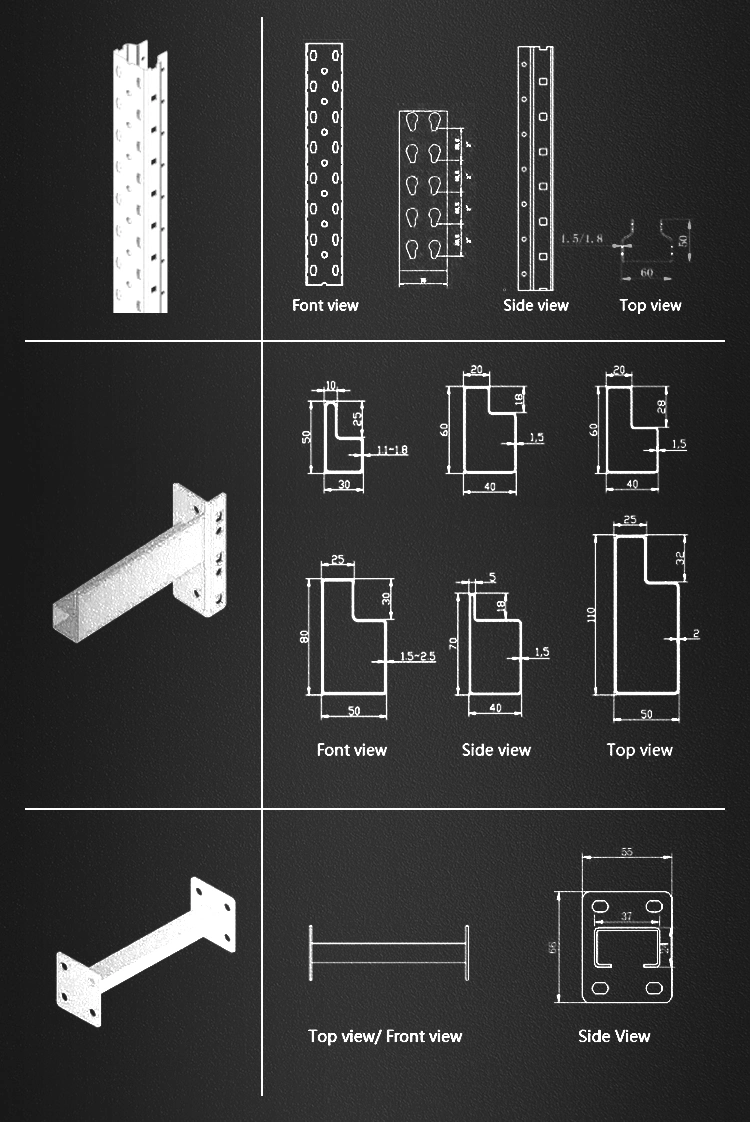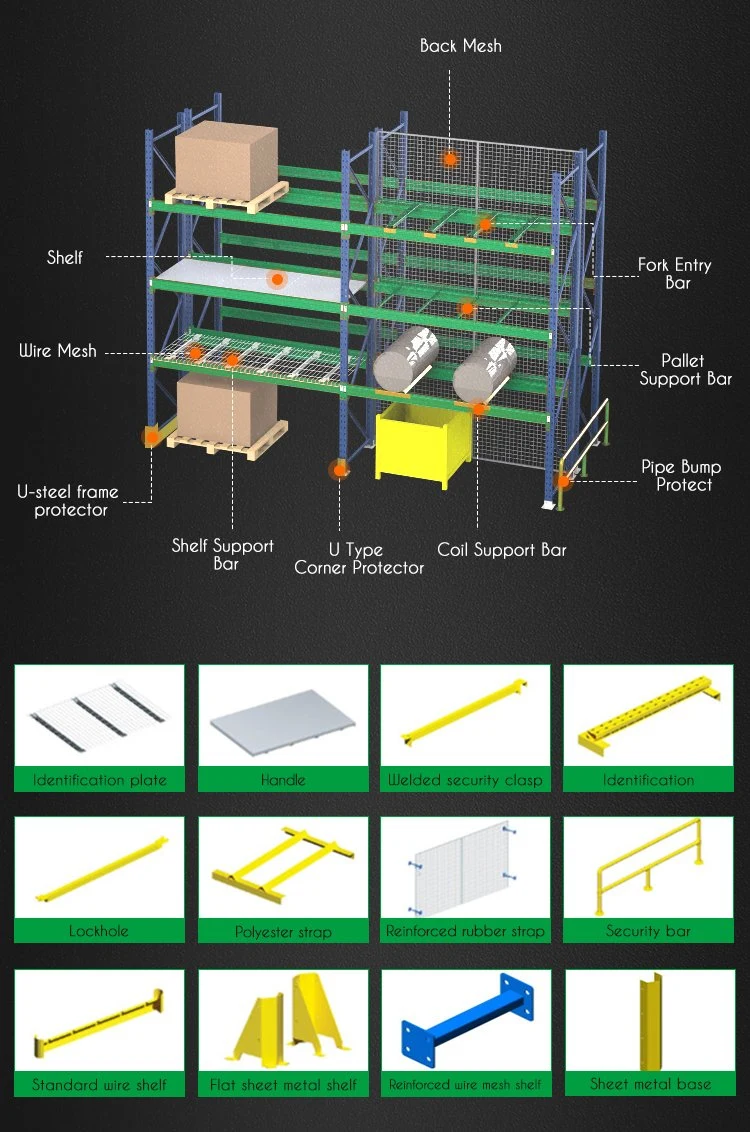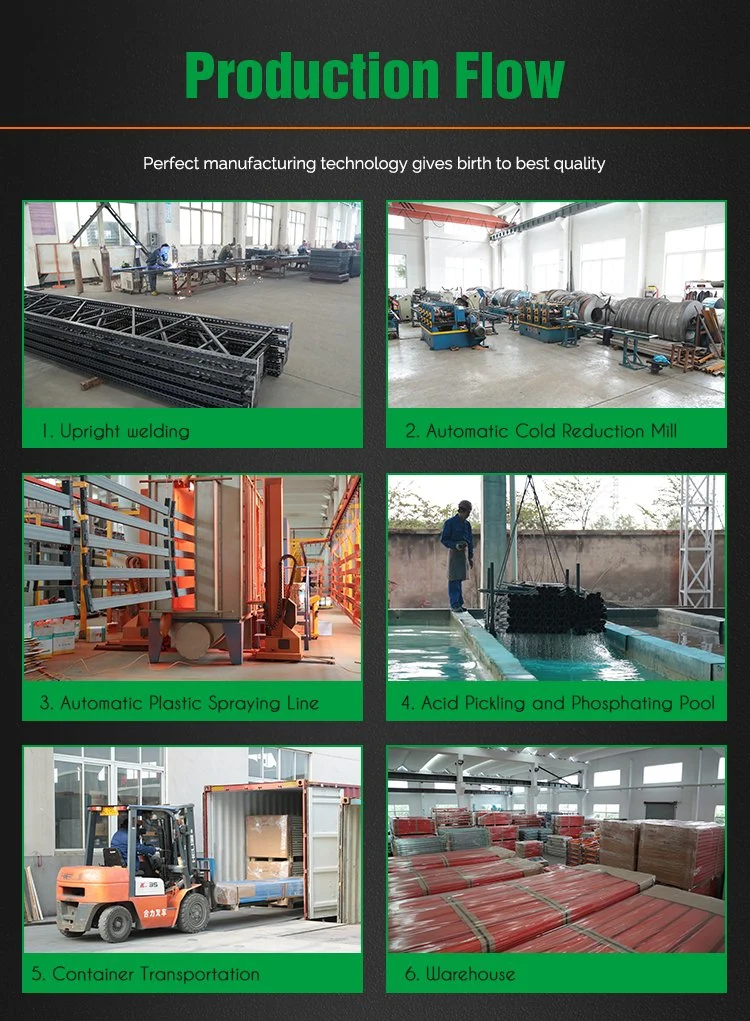 warehouse shelf
Product Description
1) Appropriate for picking heavy goods by pallet.
2) High strength and durability.
3) High precision rolling components.
4) Easy for complete installation.
5) Araldite static powder coating.
6) Abundant accessories..
7) Every layer of the board can be adjusted freely;
8) Color and size can be adjusted according to your requirements.
9) The heavy-duty standing posts is good looking and anti-rust with fine powder-coating.
10) Different thickness, size, layers, and colors are available for you to choose
Beam Feature
4 holes 11"*2"*5" P shape beam,slotted connection&bolted connection. Beams can be adjusted every 2".
A, Hot rolled steel moulding, bearing evenly.
B, Various specification and load capacity to meet different storage requirements.
C, Beam hitch steel's teeth are designed to different direction; this not only makes the teeth for increased rigidity.
D, Connection between beams and pillars are performed by safety bolts and clips.
E, Optional accessory is nameplate holder.
Uprights feature
In clined beam has two type longer,one is used loosely for the upper of the rack, the shorter densely for the lower to improve the bearance and solidity.
A, Polyhedron with thirteen faces.
B, Pitch is 50 mm, beam is adjustable.
C, Triangle hole easily tightens to hitch steel and strengthens the load capacity of posts.
Bracings
the horizontal and diagonal bar on standing colunm is square tube,no C-shaped ,square tube is 30*50 ,30*30, and so on.
Support for metal box
Used for placing mesh box and metal container etc. with stacking feet, safe and reliable.
Wood shelf and support bar
The plywood, 20mm thick, is in the salience of knighthead. Each pallet has a pair of knighthead.
Metal shelf
The steel material: cold rolling steel ,SPCC, DC01, ST12,Q195, the steel thickness ranges from 0.6mm to 1.2mm,
Safety locker
Locker, bolted,pin for making racks stability,more strong.
Protector/ barrier
Located at the sides or corners of shelving to be away from impact by forklift.
Pallet stopper
For pallet stop, speciully for fork lift in top oppration.
Row-spacer
Row-spcaer,to be two lines rack connected.
model

light storage rack ( mm)

middle storage rack

heavy storage rack

heavy storage rack

heavy storage rack

specification

1500*500*2000

2000*600*2000

2000*800*3000

2000*800*3000

2000*800*3000

size of upright

30*50

30*80

60*80

70*90

70*90

size of bunton

30*50

40*80

50*80

50*110

50*120

thickness(upright)

1.0

1.2

2.0

2.5

2.5

thinkness(borad)

0.5

0.5

1.0

1.0

without

thinkness
bunton

1.0

1.2

2.0

2.5

2.5

capacity/level

150KG

300KG

1000KG

1500KG

2000KG

layer

4

4

3

3

3

unit price

48USD

77USD

155USD

205USD

199USD

upright price

6USD

9.5USD

29USD

37USD

37USD

cubic meter

0.21

0.39

0.62

0.71

0.51

weight

43.36KG

74.83KG

150.46KG

199.22KG

193.61KG
Benefits & Features:
· Knock-down components reduce freight costs.
· Flexibility in Design
· Easy to reconfigure or repair.
· Available in painted or galvanized finish
l 1.Frame and Beam Material:Cold rolling steel SPCC DC01,ST12,Q195/Q235B
l 2,Beam adjustment:The beam levels are adjustable
l 3. Procedure: Moulding+ Acid cleaning/or Sand cleaning+ Phosphating+ Degrease+ Dryness+ Powder coat+ Polymerization
l 4.Finishing:Epoxy-Polyester Coating
l 5.racking color:many colors are available such as orange,blue and so on.